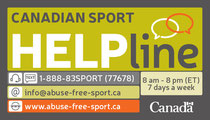 You'll be hearing a lot about Safe Sport this year. While the board is working to finalize our policies, I wanted to share a resource that's available for all club members and sports participants in Canada.
The Canadian Sport Helpline has been established to allow participants who have been subject to discrimination, harassment, bullying, or abuse to get advice and assistance on a confidential basis. This Helpline is in addition to our club policies and processes which are also still available.
Info regarding the Helpline is available at https://abuse-free-sport.ca/en/, by phone/text at 1-888-83SPORT (1-888-837-7678), or by email at info@abuse-free-sport.ca.